Audio
Video
Outline
HUMBLY GIVING
Rosary Cathedral, December 2, 2018
Prior to Handel's Messiah with Toledo Symphony Orchestra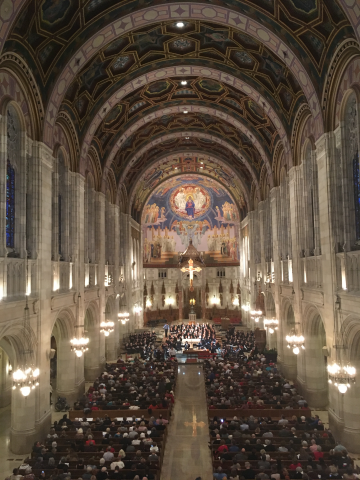 1. Jesus notices when we give (Luke 21:1; Romans 8:32)
2. Jesus notices how much we give (Luke 21:2; 2 Corinthians 9:7)
3. He appreciates when we humbly give (Luke 21:3-4; Luke 20:47; 2 Samuel 24:24)
Luke 21:1
1 While Jesus was in the Temple, he watched the rich people dropping their gifts in the collection box. 
Romans 8:32
32 Since he did not spare even his own Son but gave him up for us all, won't he also give us everything else?
Luke 21:2
2 Then a poor widow came by and dropped in two small coins.
2 Corinthians 9:7
7 You must each decide in your heart how much to give. And don't give reluctantly or in response to pressure. "For God loves a person who gives cheerfully."  
Luke 21:3-4
3 "I tell you the truth," Jesus said, "this poor widow has given more than all the rest of them. 4 For they have given a tiny part of their surplus, but she, poor as she is, has given everything she has."
Luke 21:3-4 (MSG)
The plain truth is that this widow has given by far the largest offering today. All these others made offerings that they'll never miss; she gave extravagantly what she couldn't afford—she gave her all!
Luke 20:47 (KJV)
47 Which devour widows' houses, and for a shew make long prayers: the same shall receive greater damnation.
2 Samuel 24:24
24 No, I insist on buying it, for I will not present burnt offerings to the Lord my God that have cost me nothing.